Congratulations PEMEX for the approval on drilling the delimiting well Kela-1DEL of the assignment AE-0382-4M-Amatitlán.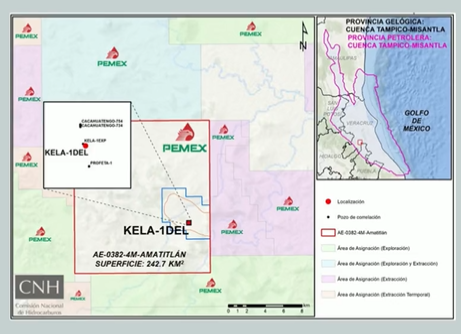 The well is located in the state of Veracruz in the Tampico-Misantla Oil Basin. The terrain elevation is 80 meters above sea level, with a Medium Cretasic geological target. It has temperatures and pressures of 91C and 3,759 psi respectively with the expected hydrocarbon of light oil of 27 API degrees. The well will have a horizontal trajectory at a total depth of 2,140 vertical meters below the rotary table with a work schedule of 84 days.
The drilling equipment used is a PM-1386 with 1,500 HP and a BOP of 10,000 psi capacity.
It has a possibility of geological success of 67% with an amount of resources to reclassify for 14MMboe.
Source: National Hydrocarbons Commission
Save the date for Shallow and Deepwater Mexico October 11-13, 2022 in Ciudad del Carmen, Campeche.
#offshoremx #offshoremxnews #oilandgas #energy #upstream #subsea #martitime #gulfofmexico #shallowanddeepwaterexpo #sdmxexpo #sdmxnews #exploration #drilling
EPG Events, LLC